Summer Flowers are almost in bloom! With the hot summer days just months away, it's time to start thinking about what to plant for the upcoming season.
Hello fellow homesteaders! We've gathered a list of the best types of flowers to plant for summer, that will brighten up your day all season long.
The types of flowers that will wake you up in full bloom with vibrant colors. To make things a little bit easier, I have also chosen plants that do not need a lot of attention, require minimal watering, can bloom with different type of soil, and will last until summer ends. Of course, a good soil, some fertilizer, and proper care will help these little beauties thrive!
On how to plant during the summer, please check this link for more details. This is really helpful, I swear!
1. Gloriosa Daisy | Types of Summer Flowers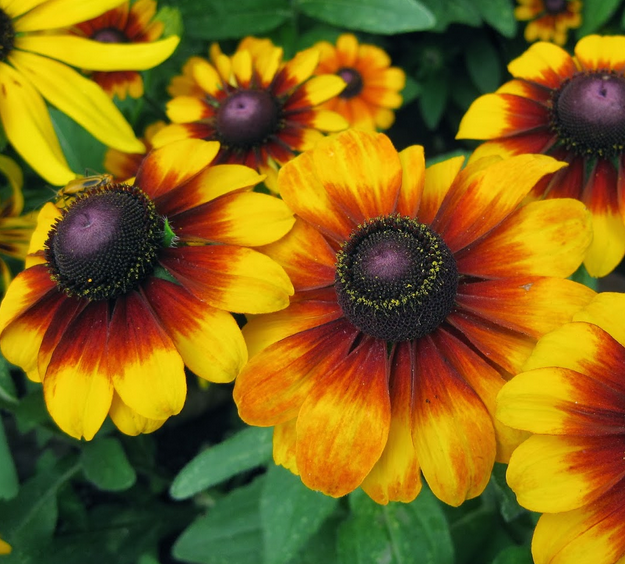 Plant these daisys in the summer
Scientific Name: Rudbeckia Hirta
Gloriosa Daisy which is commonly known as Black Eyed Susan, and has a bright yellow to orange petals with a deep brown to black center. This is a great flower to plant in the summer. It grows up to 3.5 ft tall and can also live over cool weather. Gloriosa daisy attracts butterflies, bees and even hummingbirds. If you want to know more about Gloriosa Daisy check at this page.
2. Coreopsis | Types of Summer Flowers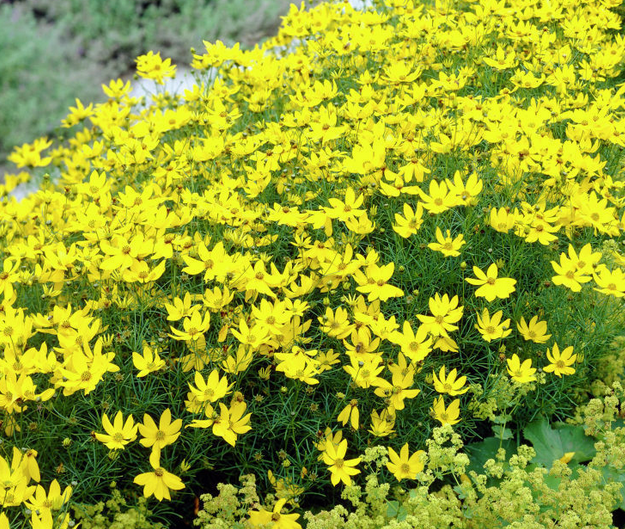 These yellow flowers will bloom all summer
Scientific Name: Coreopsis Gigantea
I grew up seeing this type of flower growing everywhere, so I can definitely say that this can really live in the summer without any hassle for any gardener. There are few varieties of colors as well and  this flower can can last till fall. Check this out for easy guidelines on how to plant Coreopsis.
3. Dahlia | Types of Summer Flowers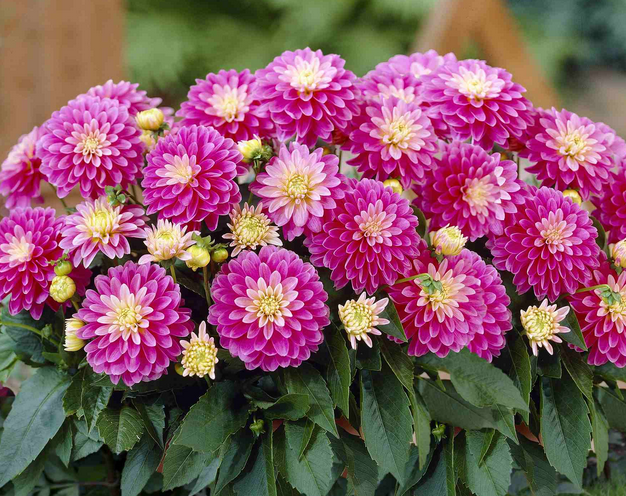 Dahlias are one of the prettiest seasonal flowers for any floral arrangement
Scientific Name: Dahlia Pinnata
Nowadays, Dahlias make a beautiful symmetrical ball of brightly colored petals that will cheer up any garden! Different varieties grow to different heights and sizes, they even have different needs. Plan your garden accordingly and you'll enjoy a wide array of dahlias all throughout the summer.
4. Marigolds | Types of Summer Flowers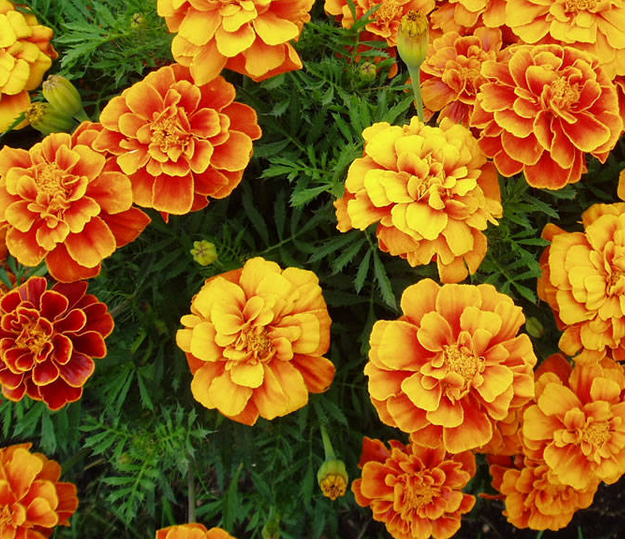 Marigolds make for a beautiful golden bloom, perfect for photography and centerpieces
Scientific Name: Tagetes Erecta
Marigolds may be your new favorite this gardening season, as they are a flower that is both easy to plant and easy to care for! Marigolds come in a few colors to choose from as well, which is great for landscaping and contrasting them against other vibrant florals. Enjoy your marigolds all season long, and check more about additional facts.
5. Yarrow | Types of Summer Flowers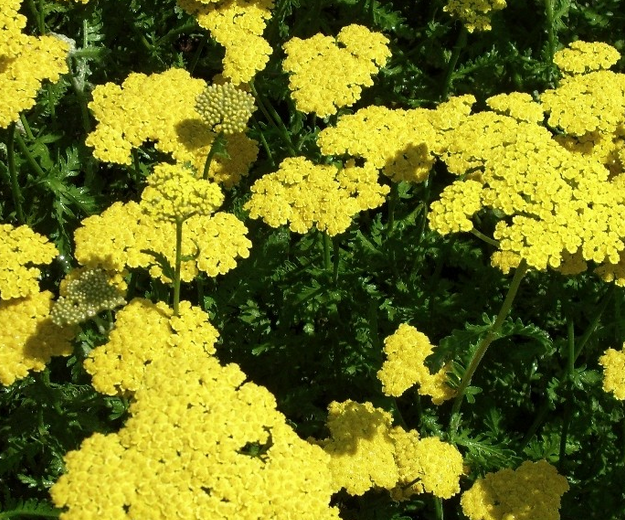 Yarrow is a great filler flower for summer weddings and bouquets
Scientific Name: Achillea Millefolium
Yarrow or common yarrow can be recognized as the best flower to plant this summer. It is a plant that can adopt to the weather, and with minimal care this flower will still blossom! Find more interesting facts about Yarrow here.
6. Beardtongue | Types of Summer Flowers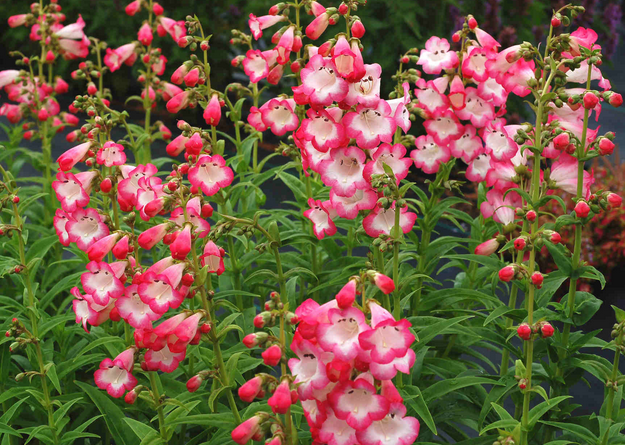 Beardtongue is a beautiful wildflower that attracts lots of hummingbirds throughout the season
Scientific Name: Penstemon palmeri
This partly tube or cone shape flower ordinarily known as beardtongues or snapdragon, is ideal for this sunny season. Penstemon prefers to be planted in mass, but must need space as they don't want to be crowded in the same bed. If you want to enjoy seeing a hummingbird stopover to your garden, plant it near your window or terrace, as they tend to grow up to 3 ft tall! There is a lot to see about Penstemon, click here for more.
7. Pineapple Lily | Types of Summer Flowers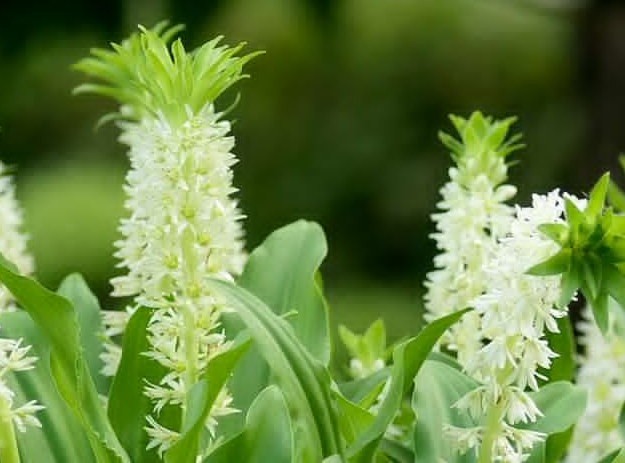 Elegant for your exotic arrangements
Scientific Name: Eucomis Autumnalis
Obviously this is not a pineapple, but it literally looks like one, right? Pineapple lily is actually from the Asparagus family, and loves to grow in summer. You can plant it in a flower bed, but others choose to grow it in flower pots. You can put it indoor as this can grow from 12-15 inches tall. The pineapple lily is great for centerpiece or for your porch. Want to plant your own pineapple lily? Click here for instructions!
8. Oxalis | Types of Summer Flowers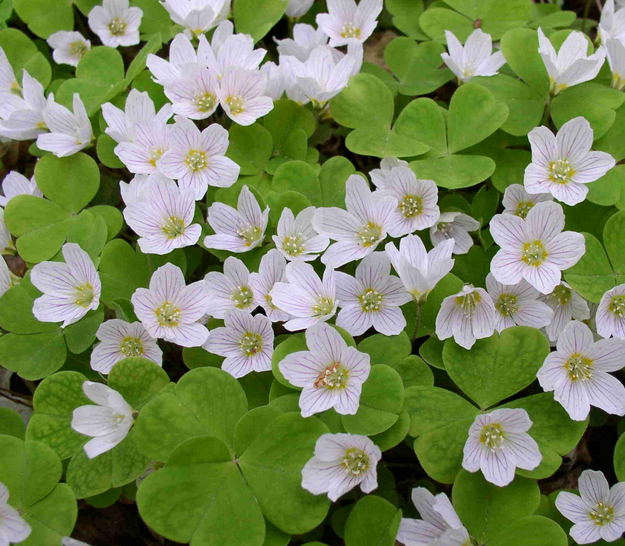 Oxalis are a great low maintenance flower to plant in summer.
Scientific Name: Oxalis griffithii
Oxalis along with its other variants of colors can be used for outdoor or indoor planting. It can grow under from 6 inches depending on its kind. More information here.
9. Gloriosa Lily a summer flower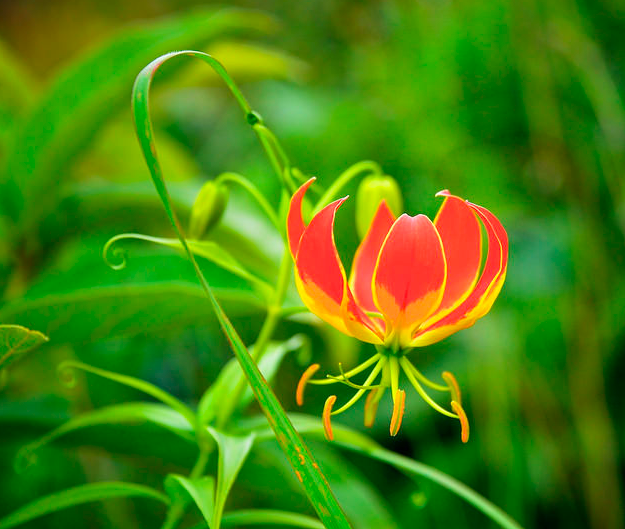 The gloriosa lily is another beautiful flower you will love for photography and hanging in your floral arrangements.
Scientific Name: Gloriosa superba
Gloriosa Lily is very easy to plant, it can cling from fences or hang in a pot. These flowers are considered a vine, so it can really be excellent for houses with limited yards. PLEASE BE CAREFUL – this plant is poisonous if consumed.
10. Surprise Lily | Types of Summer Flowers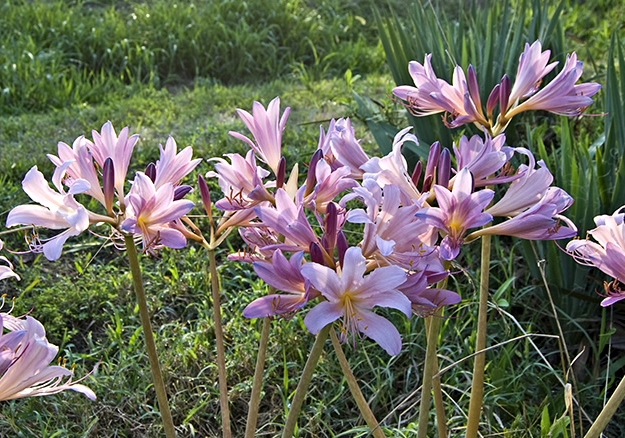 Rise with the Lilies this summer in your bed of resurrection lilies
Scientific Name: Lycoris squamigera
This Lily is also known as the Surprise Lily, Resurrection Lily, or Hurricane Lily as it sometimes grows during Hurricane Season. You will love its fragrance and its delicate color that bloom in white or pink. Be cautiouss with this Lily too as some parts can be poisonous if consumed. Want to plant Surprise Lily? Here's how.
11. Gaillardia | Types of Summer Flowers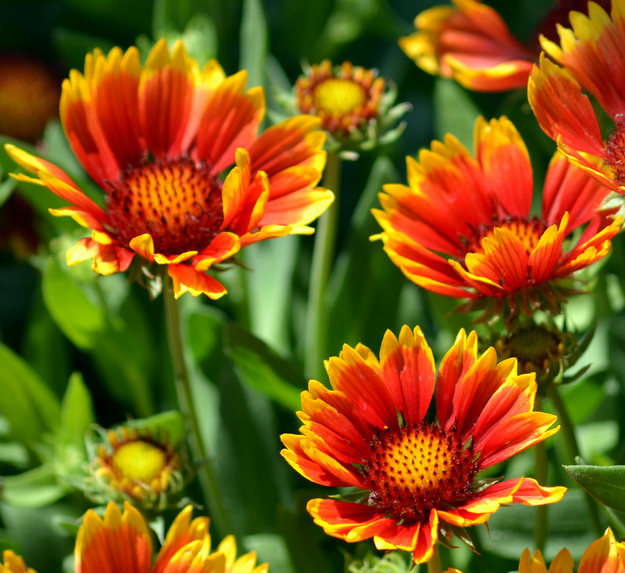 The blanket flowers are radiant and perfect for summer heat
Scientific Name: Gaillardia Aristata
Gaillardia Aristata or known to be Blanket flowers are from the Sunflower family. They can be used to cover whole fields, much to everyone's when they bloom bright reds and yellows in the summer. These flowers attract butterflies and love heat.  Learn more about planting the blanket flower here.
12. Peonies | Types of Summer Flowers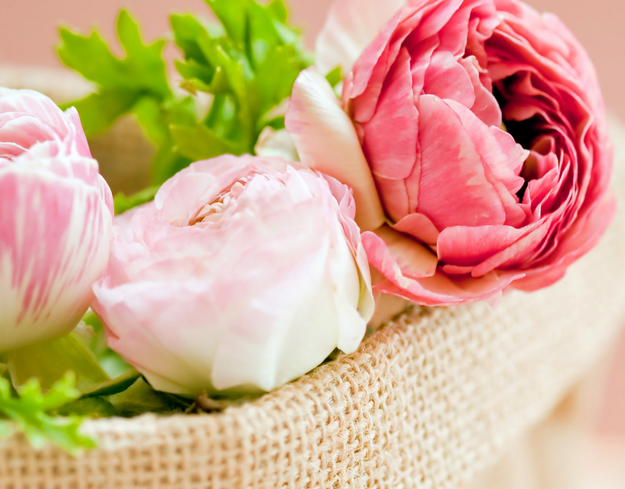 Pretty pink peonies are one of my all time favorite flowers!
Scientific Name: Paeonia suffruticosa
With this beauty and fragrance, who can resist planting peionies this summer. This flower can live 100 years without proper care because it can survive in a cool weather. The secret of having a blossoming peony is in its preparation so try to check this out for helpful tips on planting Peonies.
13. Daffodils | Types of Summer Flowers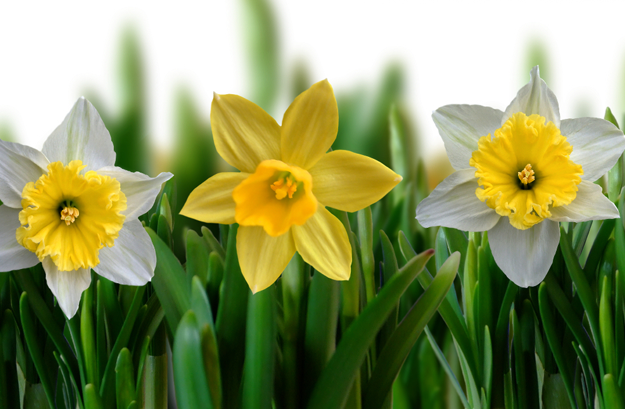 You can enjoy your lovely yellow daffodils through the summer with the right treatment and care
Scientific Name: Narcissus poeticus
You must not forget Daffodils on your list of  flowers to plant this summer. They start blooming in the spring, but can last into summer.
14. Daylily | Types of Summer Flowers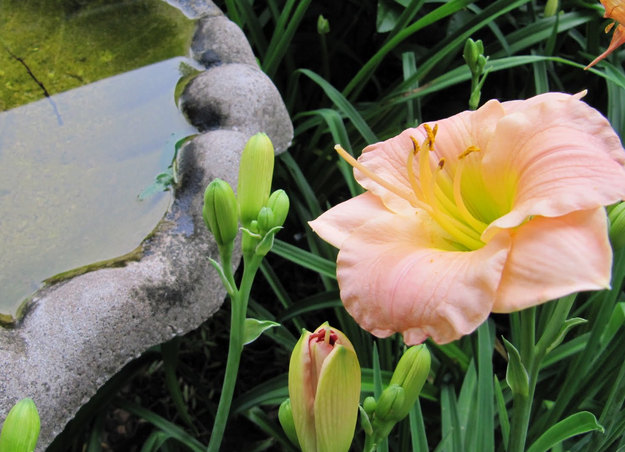 Daylilies in pink and white are perfect for summer bouquets
Scientific Name: Hemerocallis lilioasphodelus
Despite its beauty, this kind of flowers does not need a lot of attention, as long as you put it on the right location. Daylilies are very adaptive to every season, and very hearty. The daylily is also edible – so be sure to buy organic! Interested in planting the Daylily? Did you know? – daylily is not a lily. It is only named daylily as the flowers bloom in the morning and close at night.
15. Zinnia | Types of Summer Flowers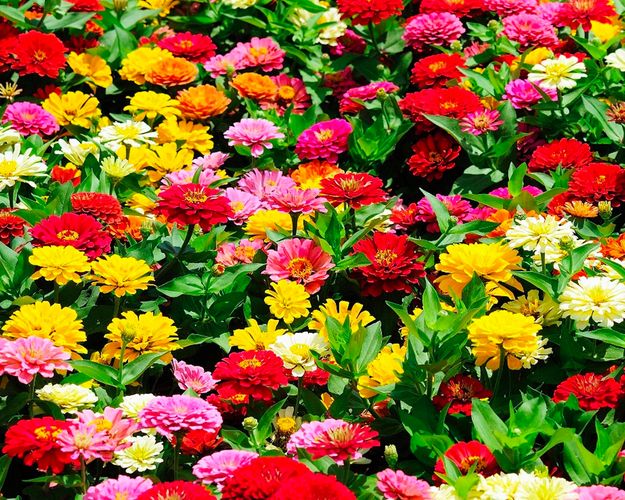 Z
inias will pop in the summer
Scientific Name: Zinnia x hybrida
The zinnia is truly breathtaking, and a favorite among summer flowers. They are hearty in most summer conditions, they will even bloom in the rain, but nothing beats having it on a sunny day. You would not regret having it in your garden as this will surely brighten up your day. Try to plant varieties of colors for a more vibrant and cheerful garden! Read more about planting here.
16. Plumeria | Types of Summer Flowers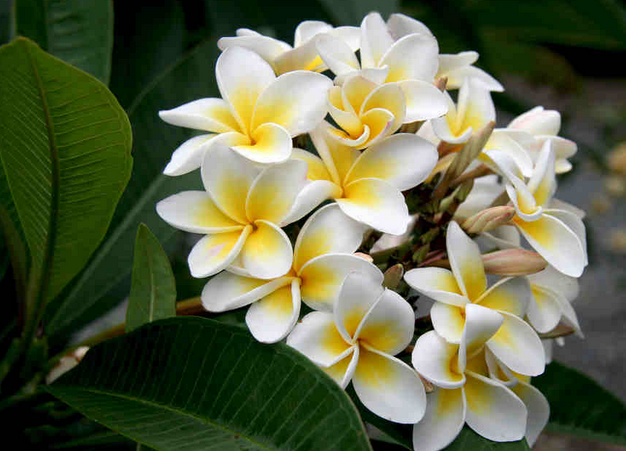 Plumerias thrive in tropical climates, plant them near you for an exotic touch.
Scientific Name: Plumeria
This lovely flower is most commonly seen in tropical or subtropical regions. Plumeria is a tree that delivers magnificent clusters of white, red, pink, purple, and yellow – ranging in variety. You will love having a plumeria tree in your backyard year round!
17. Bougainvillea | Types of Summer Flowers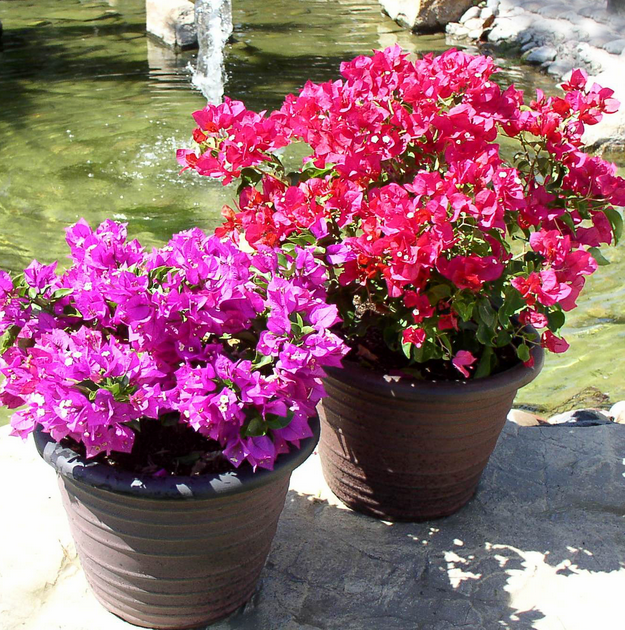 Bougainvilleas are a beautiful purple and pink flower that become vibrant in the spring and summer season
Scientific Name: Bougainvillea spectabilis
Bougainvillea is an ornamental vine that can cover your whole fence, or even your house with proper trimming, landscaping and architecture. It originates in Brazil and is known to be the best flower to plant during summer. Rest assured that this will live and grow after planting on this season. But, of course you can plant Bougainvillea anytime of the year. Be careful with the bougainvillea, as it does have sharp thorns and grows very rapidly, though its beauty is well worth it. Here is an easy how-to video so you can plant your very own Bougainvillea.
18. Lavender | Types of Summer Flowers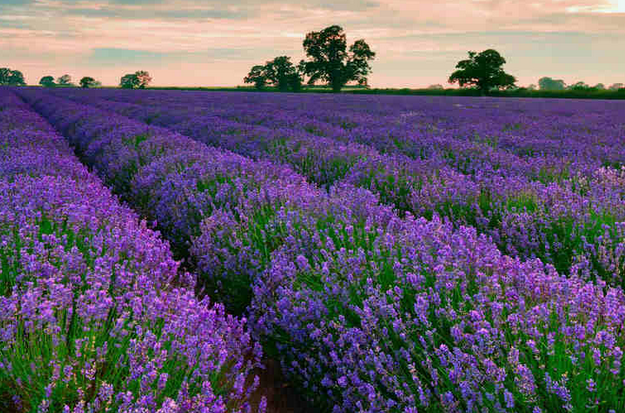 Plant lavender next to all your windows and doors in the summer so you can smell its wonderful aroma
Scientific Name: Lavandula
Though I dream to have a field with full of lavender, which is impossible at this time, I can still share with you why this is good for summer and ways to plant this on our very own home. Lavender is perfect for summer because it loves the heat. Try to plant this herb near your patio or windows so you can experience the aroma while enjoying the heat of the summer. Click here for more reading on lavender.
19. Sunflower | Types of Summer Flowers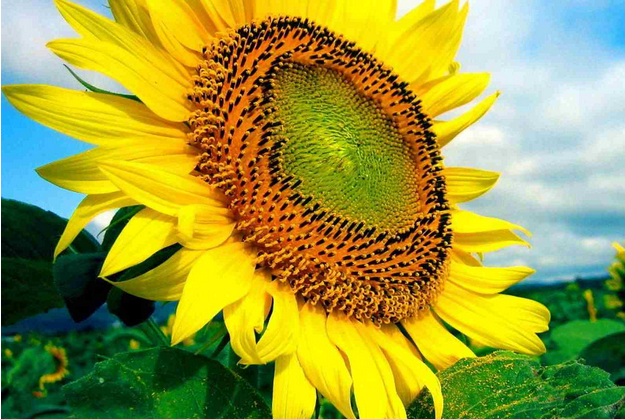 Sunflowers are such a fun bright yellow plant to grow in your yard each summer
Scientific Name: Helianthus Annuus
The sunflower is one of the most iconic and mesmerizing flowers. From being an ornamental flower to becoming an agricultural crop, the sunflower is also one of the perfect flowers to plant this summer as it can tolerate dryness and heat. I remember our home filled with sunflowers in our small garden that grew way over all our heads! Who wouldn't want to feel like an ant next to such a beautiful crop?
20. Periwinkle | Types of Summer Flowers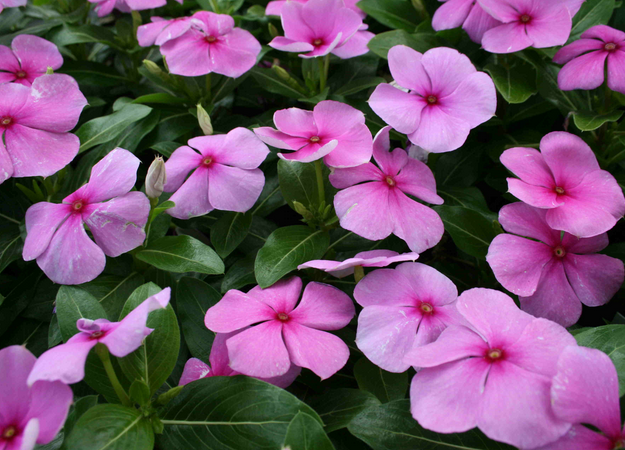 Enjoy the purple periwinkle flower as it blooms each summer season
Scientific Name: Vinca minor/ Catharanthus roseus
If you are looking for an all season flower that can still adopt to the dry and sunny weather, than periwinkle must be your first choice. There are more than 11 colors to choose from. Vinca are commonly used to border yards, and can grow up to 3 ft and deadheading can make your Vinca blossom more. Learn more about growing periwinkle here.
21. Shasta Daisy | Types of Summer Flowers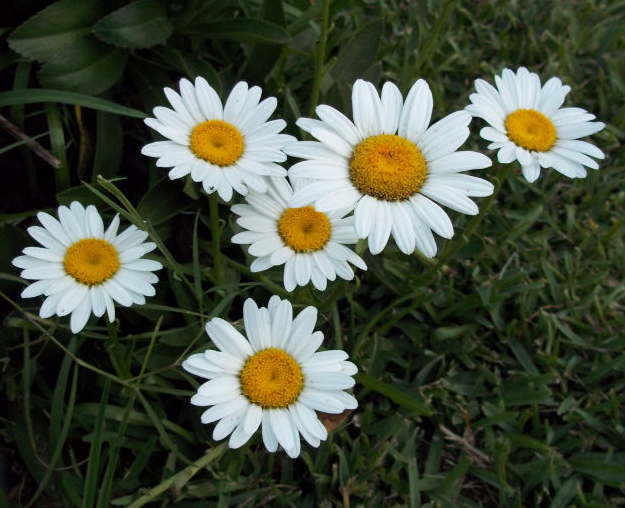 Daisies are one of the cutest seasonal flowers, great for white floral arrangements and small weddings.
Scientific Name: Leucanthemum x superbum
Named after Mount Shasta, this flower has been a gardener's favorite, as it is a daisy look. This flower will bloom all summer long, though best not to get too close, as some say its smell is not so agreeable.
22. Shrub Roses | Types of Summer Flowers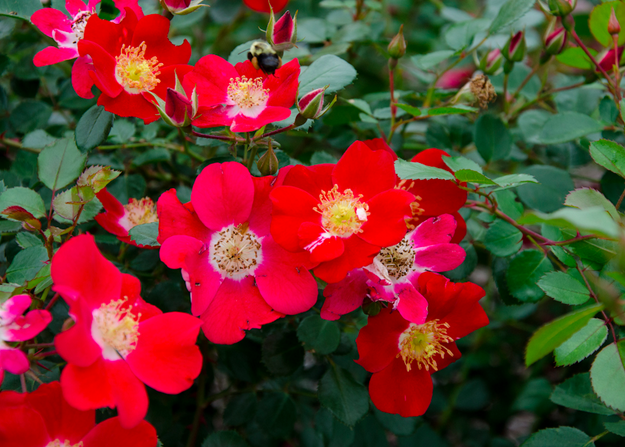 The shrub rose is a beautiful summer flower, and low maintenace for your garden
Scientific Name: Rosa rubiginosa
Shrub roses are elegant and low maintenance, making them a summer favorite. They can withstand dryness, but prefer to have very good weather and moist. Just a reminder, please be careful when planting shrub roses, they do have thorns. Click here to learn more.
23. Aster | Types of Summer Flowers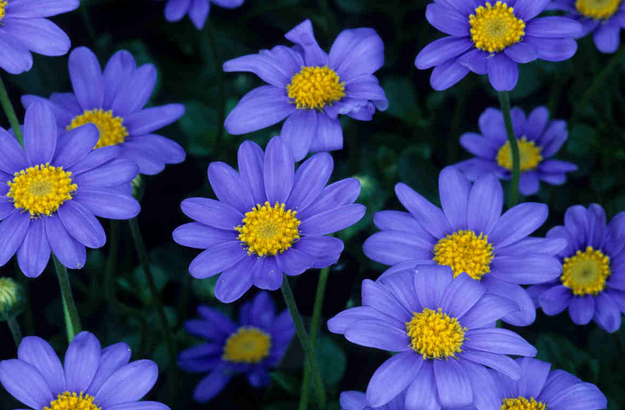 Enjoy the blue Aster flower in your summer flowerbed
Scientific Name: Aster Amellus
Aster which means star in Latin is very suitable for its kind. Asters bloom in bright colors, attract butterflies, and are low maintenance, making them the perfect summer wildflower!
24. Hibiscus | Types of Summer Flowers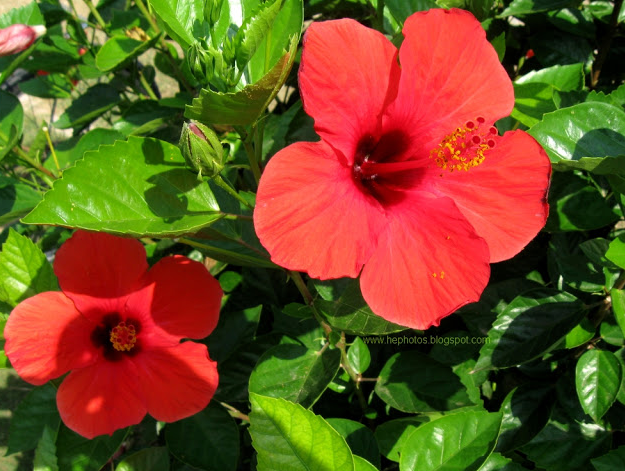 Grow hibiscus in your garden if you love the tropics.
Scientific Name: Hibiscus rosa-sinensis
Hibiscus are a true summer flower, well known for their presence in tropical climates. The hibiscus blooms in many bright colors, and can even be consumed as food or in a tea, with many positive benefits. Learn more about hibiscus here.
25. Scarlet Sage | Types of Summer Flowers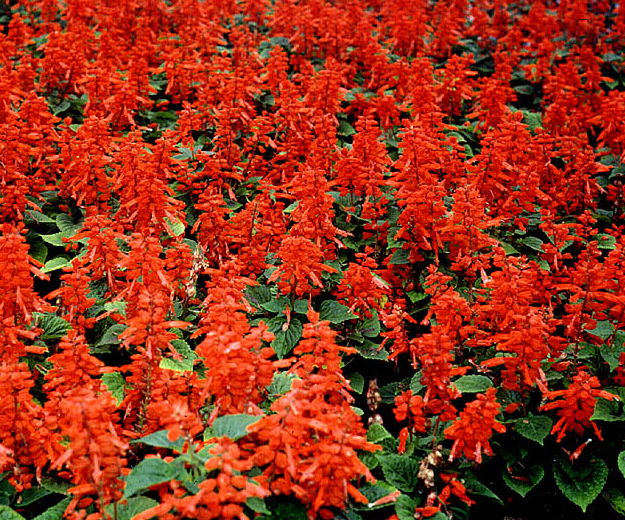 Scarlet sage will add a beautiful pop of red to any seasonal garden
Scientific Name: Salvia coccinea
Salvia coccinea commonly known as blood sage or scarlet sage is a wildflower that can grow during summer as it can survive with or without water. Watering this plant will bring out its bright colors which will attract the birds and the bees.
That concludes our list of 25 Beautiful Flowers that will bloom all summer long! We hope that you find it helpful and are able to figure out one will be good for your own gardening style. Most of the flowers that I include there were close to me when I'm growing up. And living in a place with full of summer I must say that those flower blooms whatever the circumstances. Flowers that still show hope and happiness all throughout the season.