Need some inspiration for your chicken coop designs and ideas? You'll love these. Learn to make them yourself with
Much like a miniature version of your own home, your birds will need a chicken coop tailored specifically to the needs of your flock and your space. You'll need to determine how many chickens you can comfortably house, whether you will need a large or small chicken coop, and what style best suits your space and your personal preferences.
We've compiled some of the most creative chicken coop designs and have also included some fantastic chicken coop ideas for the inside of your chickens home. If you need a little help deciding some of the basics about which type of coop fits your needs best, head over here for some advice.
1. Chicken Coop Cottage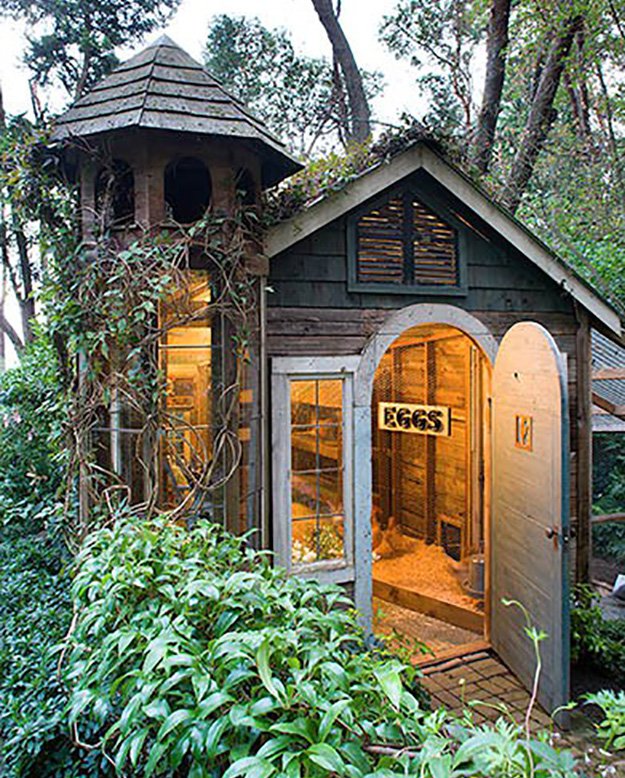 For a little country whimsy, give your chickens a cozy cottage home complete with winding vines and stone pathway to the doorstep.
2. Beer Can Shingles

Protect your chicken coop from the effects of weather, recycle cans in different way and drink up for the benefit of your flock. Cheers to chickens!
3. Bright and Cheery Chicken Shed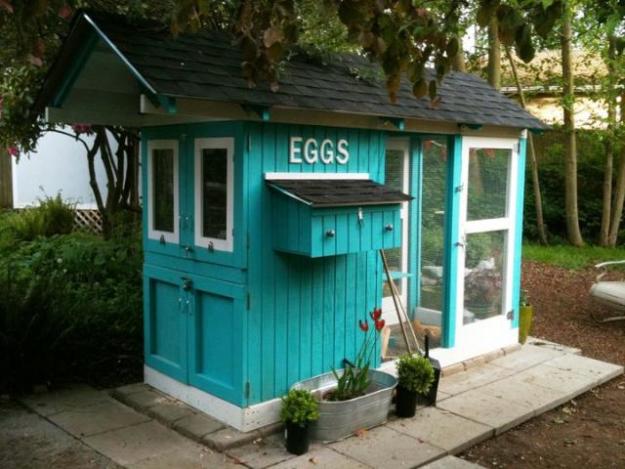 Add a splash of color in your backyard with a shed-style chicken coop. Use a white trim and some plants to create a classic look that will make the structure pop!
4. From Clunker to Clucker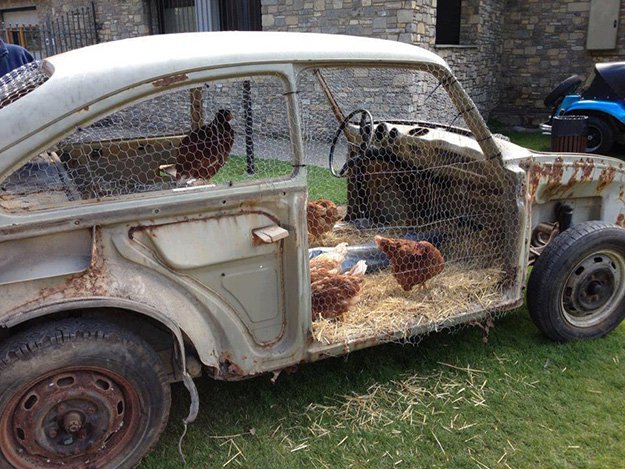 Have a beat up vehicle taking up space in your backyard or know someone trying to get rid of one?
5. Cob-Made Chicken Coop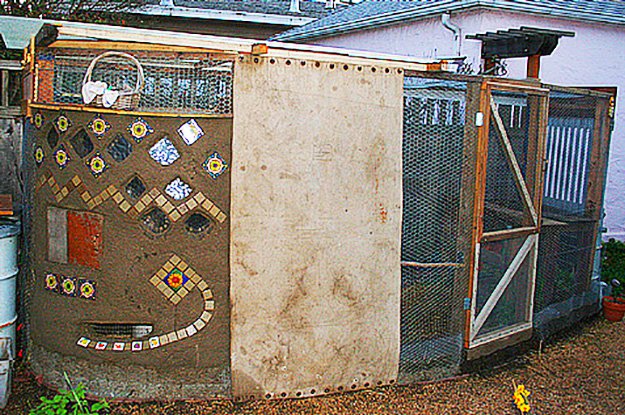 Cob is a traditional English housing material made from clay, straw, and sand – it's as strong as concrete and made from completely sustainable materials. Add in some colorful tiles and custom-sized windows to give your chicken coop a unique look.
6. Chicken Coop on the Shire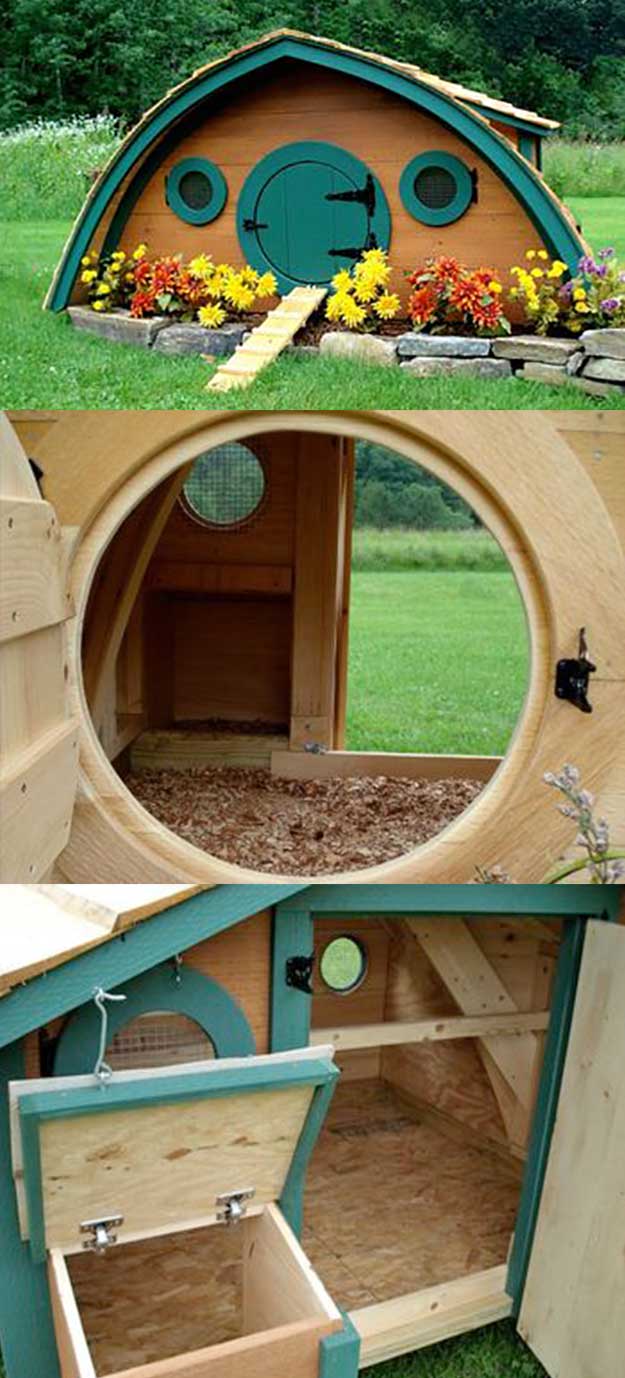 Your brood will live like Bilbo Baggins in this fun and functional chicken coop modeled after Hobbit homes.
7. Fully-"Furnished" Chicken Coop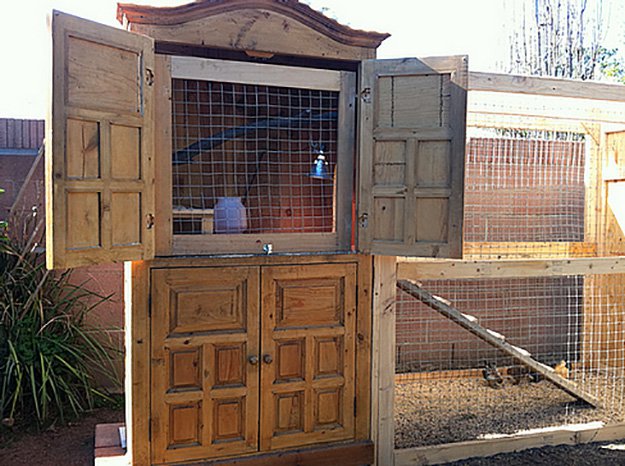 If you have a piece of furniture you no longer have a use for or just find a great deal on a chest of drawers or armoire at a garage sale, upcycle it into a home for your chickens!
8. Living Roof Coop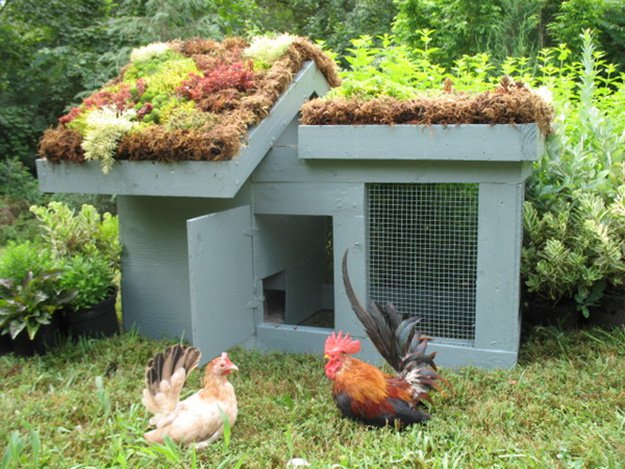 This is the perfect solution for those with limited yard space who want it all! Urban farmers rejoice – you can have your small chicken coop and a miniature garden all in one place.
9. Fully-Functional Chicken Coop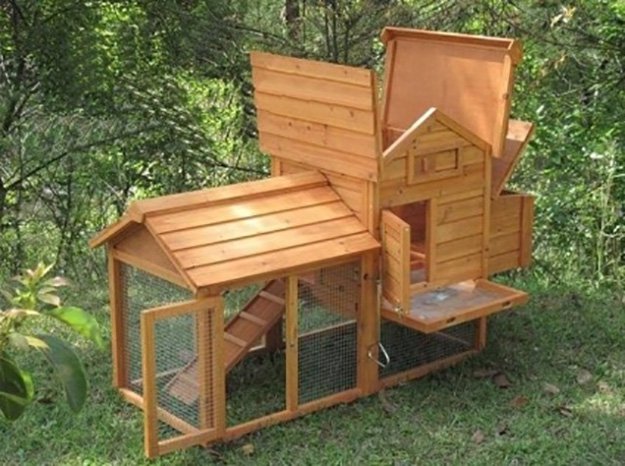 This chicken coop plan is designed for easy access to your hens and their eggs no matter where they are in the coop.
10. Pottery-Barn Inspired Chicken Coop

11. Galactic Hen House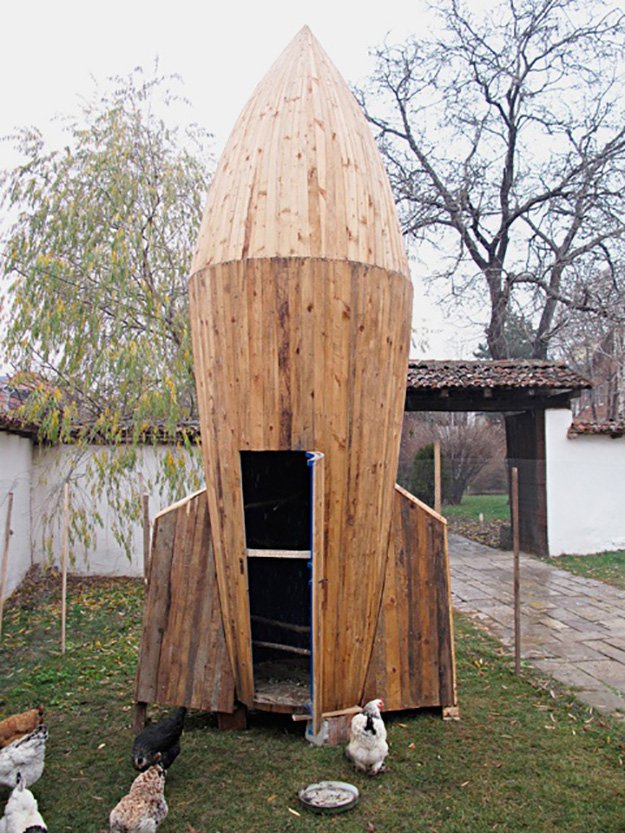 Give your chickens an out of this world home in this rocket-ship shaped house that fits 9 chickens total.
12. Hens on Wheels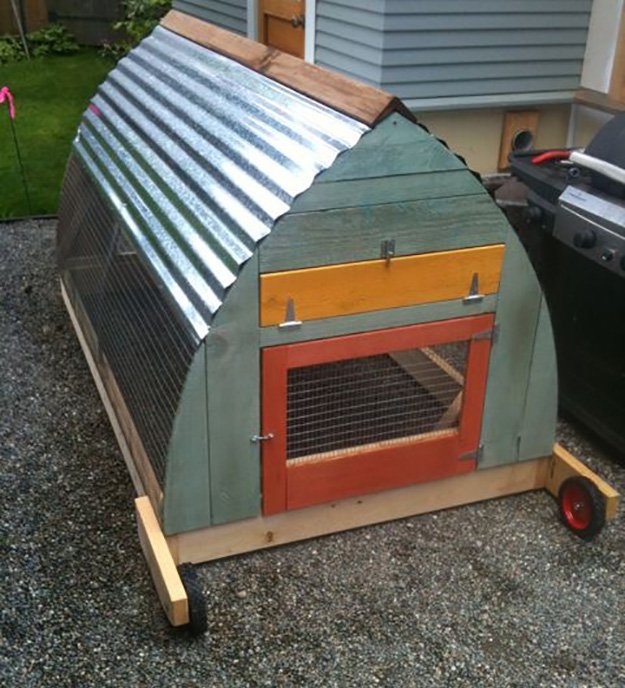 Use this portable chicken coop design to save your yard from the destruction a stable chicken coop can cause to your lawn. Instead of cleaning out your coop, just move it to the next plot of land and allow the droppings to act as natural fertilizer.
13. Upcycled Water Tank Chicken Coop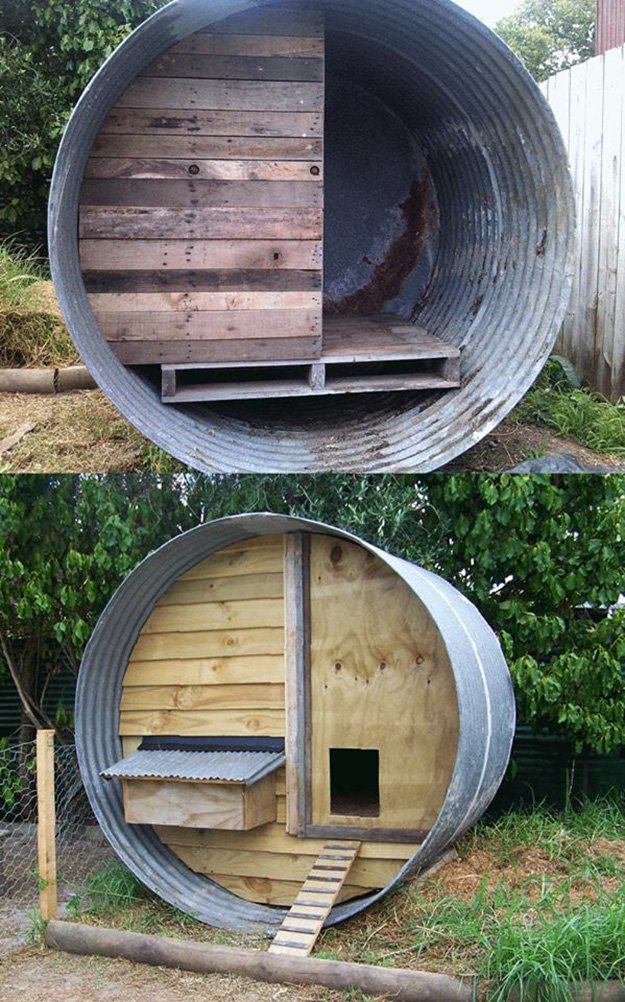 To create a completely upcycled coop convert an old water storage container into a chicken coop with pallet wood and add a few branches for perching.
14. Luxurious Lighting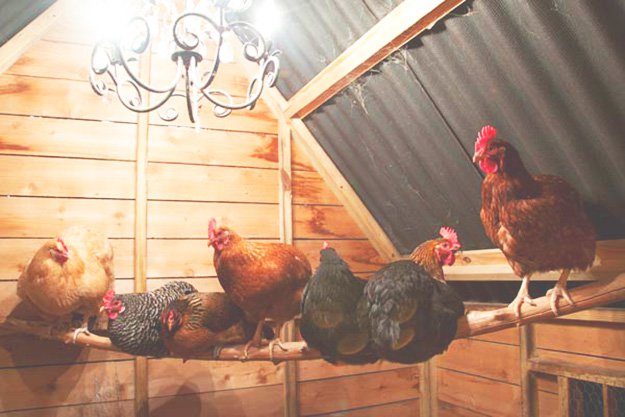 When in doubt, add a chandelier for a touch of luxury – even chickens deserve a little of the good life.
15. Telephone Booth Chicken Coop

Use an old telephone booth or paint your hen house and add square windows with chicken wire to mimic a booth and attach an open air coop to one of the sides.
16. Underground Coop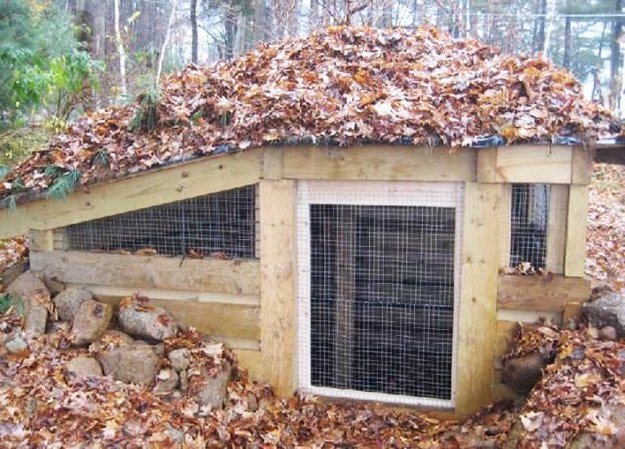 Keep your flock better protected from predators in this home that is partially underground. Also, the low-lying roof creates an excellent opportunity to grow a living roof.
17. Build the Perfect Nesting Boxes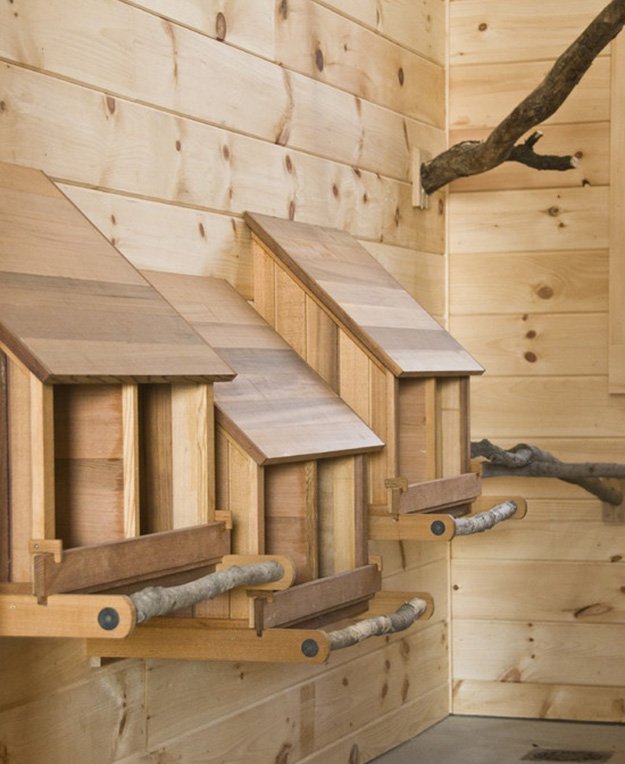 Design the perfect nesting boxes for your chickens. Create extra perch space in a small coop by installing a branch in front of the nesting box. Also note the steep angle of the 'roof' on the nesting boxes to prevent the chickens from using this space as their personal restroom and making less mess for you.
18. Chicken Camper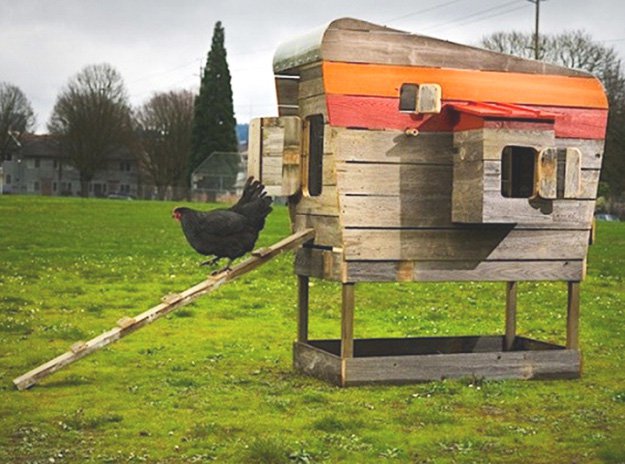 This coop was made with completely recycled pallet wood and a sheet of tin metal for the top. Keeping your coop elevated discourages predators and eliminates the back-ache from cleaning a coop that sits lower to the ground.
19. The Easy A-Frame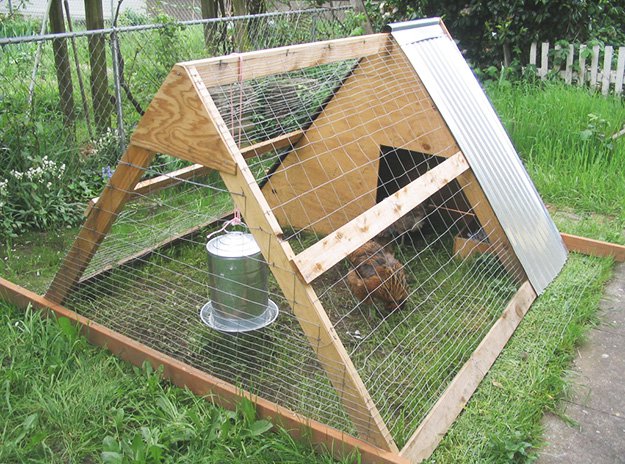 Easy to build, easy to clean, easy to maintain – the A-frame wins the convenience award…easily.
20. Book & Cluck Nook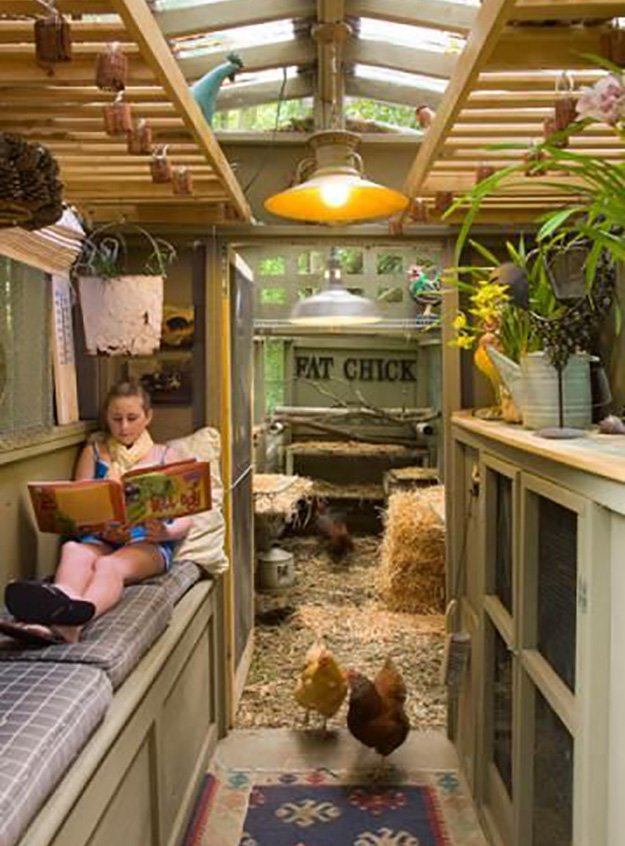 Create a space for you (or your little ones) and your chickens to relax in together. Install a screen door between the sitting space and the nesting space so the chickens don't make a mess of the sitting space.
21. Chicken Tipi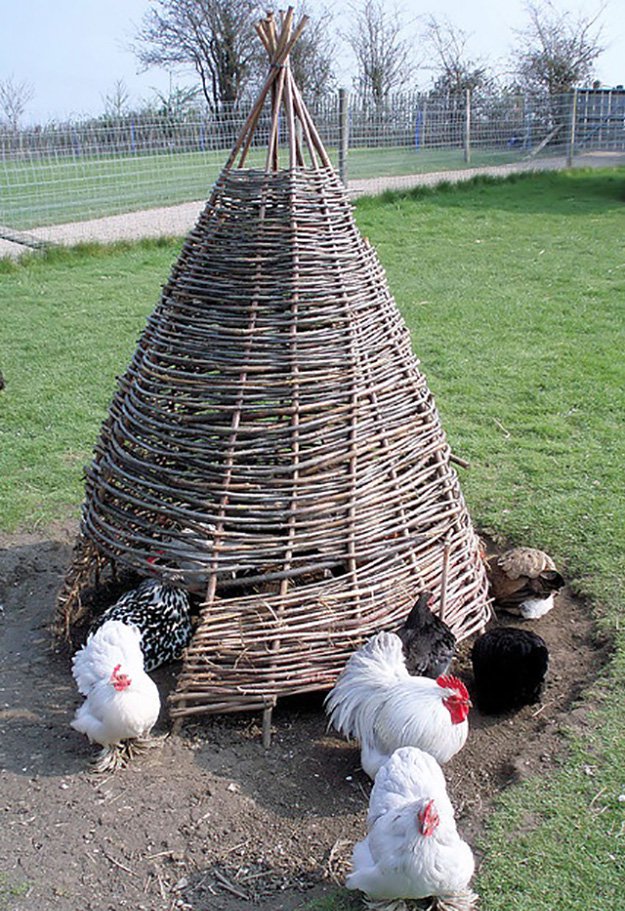 This may not be the most practical option for a permanent residence for your chickens, but it's the perfect temporary shelter from the elements while your chickens roam in a large open space.